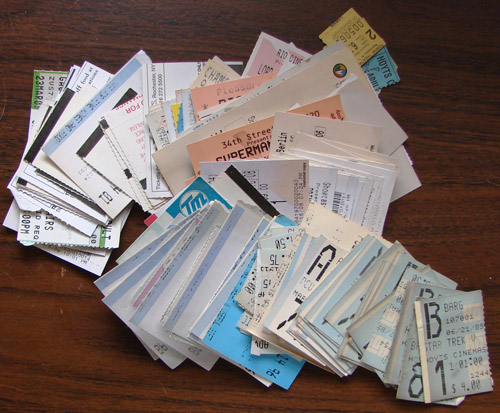 With roughly 200 ticket stubs and counting, this hand-torn theatrical retrospective could have a blog of its own. While the historical significance of this collection may never merit an invitation for exhibition in the Smithsonian, it is at very least a catalog of the effects of inflation on the movie theater industry over the last twenty years.
The collection starts on June 28th, 1989 with a showing of Batman for the very comfortable price of $4.00, and progresses at a average rate of about one movie a month all the way to the present day, capping out with the recent release of Coraline 3D at a whopping $14.25. That's a 256% increase from 1989 to 2009.
The collection chronicles most of the major movie events you would expect: the rerelease of the Star Wars trilogy, Lord of the Rings, the explosion in comic book related movies post Marvel curse, nearly all of the big budget summer blockbusters (and their subsequently terrible sequels), ground-breaking independent films, and Star Trek movies ad infinitum. It also contains some cringe worthy gems such as the stub for Anaconda which featured Jennifer Lopez, Ice Cube bopping his head to his own music, and a really big CG snake. As you can see I paid $1.50 to see this movie and I really shouldn't have. While this collection is by far the largest of its kind I've ever seen, it still feels woefully incomplete. Several of my favorite movies I saw at private showings, on-campus events or at artsy theaters that did not hand out tickets, and so are not represented here. It should also be pointed out that this is the second such collection I've started after the first, which spanned from Return of the Jedi in 1984 to the beginning of this one in 1989, disappeared under unknown circumstances.